Club News
Promotion for Green Army Men's 3rd Team
(July 26, 2018)
---
The champagne was flowing at the Jubilee Recreation Ground as our Men's 3rd Team secured their third succesive promotion in the HEAD Liverpool & District Tennis League.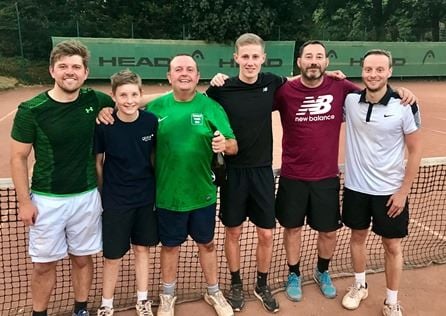 Under the captainship of Phil Thomas, the team secured both promotion and the Division H title with a gripping 5-1 home victory against Blundellsands on the clay courts of Rainford. The season finished with a very impressive record of 11 victories and only one defeat.
Pictured after the final game of the season are Adam Baker, Ben Moore, Phil Thomas, James Cawley, Dave Cawley and Neil Brennan. Also part of the squad for the season (not pictured) were Simon Hall, Alex Fillingham and Bill Warbrick.