Club News
Winners decided at 2018 Club Tournament Finals Day
(September 30, 2018)
---
It was an exciting afternoon of tennis at the annual Club Tournament Finals Day which took place today at the Jubilee Recreation Ground.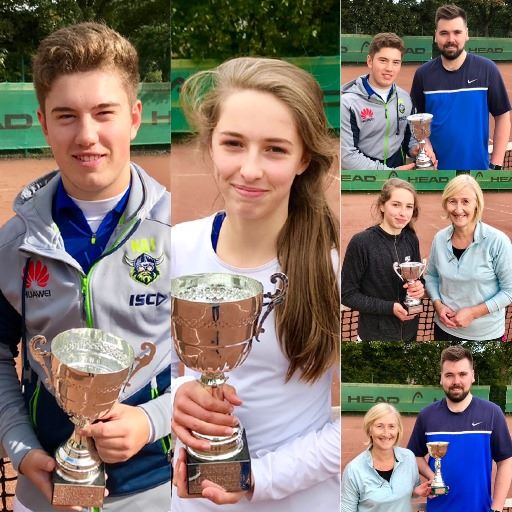 Cameron Ashley-Jones retained this Men's Singles title with a two-set win over Conor Porteus in the first match of the day in front of a busy crowd. Erin Scott won her first Women's Singles trophy with a win over Vicky Cawley in the second result of the afternoon.
In the Mixed Doubles final, the new team of Conor Porteus and Julie Scott were victorious in a third-set tiebreak against defending champions Dave Scott and Erin Scott.
The Men's Doubles final was equally close as the team of Andrew Corish and Chris Pye fought valiantly against top-seeds Cameron Ashley-Jones and Conor Porteus. The team of Cameron and Conor lifted the trophy following a 10-7 third set tiebreak win.
The final match of the day saw another third set tiebreak as defending champions Erin Scott and Julie Scott won 11-9 in the decider against Sarah Hillier and Maisie Lavelle.
In the junior events, Ben Moore won the Boy's Singles final in straight sets against Ethan Murray whilst in the Boy's Doubles final the team of Elliot Murray and Ryan Murray won against Ryan Earl and Robert Wilkinson.
View all the scores from the 2018 Club Tournament