Club News
Phil Thomas wins Volunteer of the Year Award
(September 28, 2019)
---
Phil Thomas has been presented with the Volunteer of the Year Award from the HEAD Liverpool & District Tennis League.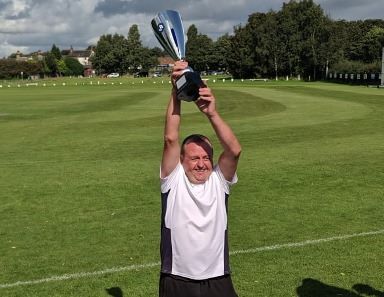 In the summer of 2019, Phil organised a music festival in Rainford which raised over £10,000 to benefit not only Rainford Tennis Club but also other community groups within the village. From organising the acts, marketing and promotion as well as organising the actual festival day itself, Phil worked tirelessly to not only give people a very enjoyable day but also made a huge impact on opportunities for young people in the local area.

In addition, Phil was also the driving force behind the first ever floodlit winter tennis sessions at the Club. Not only did Phil promote and organise the sessions, which were very well attended, he organised the hire of portable floodlights for the Club and also set them up and operated them each evening.

Congratulations to Phil on his very well deserved award.