Club News
League title and promotion for Men's 1st Team
(August 02, 2010)
---
Rainford Tennis Club's Men's 1st Team have won their division and clinched promotion in the Liverpool Tennis League.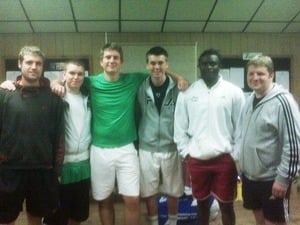 The 'Green Army', who only lost one match all season, won the title on the final day of the season with a 6-0 win at Eccleston Park.
"This is a fantastic achievement for the team" said captain, Dave Hillier. "All the players have worked really hard and there have been some impressive performances on court."
"This is the first time in a number of years that the team have won promotion and plans are already in place to prepare the team for next season in Division E"
The full squad for the season was Dave Hillier, Sam Jalloh, Conor Porteus, Andy Corish, Simon Webster, John Machin, Jon Fenney, Rob Jones, Andy Gillespie, Jamie McCafferty, Joe Machin, Lec McKnight and Sam Sheen.