Club News
Community Tennis Programme launches in the Spinney Park
(November 06, 2010)
---
Rainford Tennis Club, in partnership with St Helens Council, have launched a community tennis programme on the courts in the Spinney Park in Rainford.
The sessions, which will include Junior Coaching and Matchplay, Over 50's and Ladies Tennis will take place every week starting from 1st November.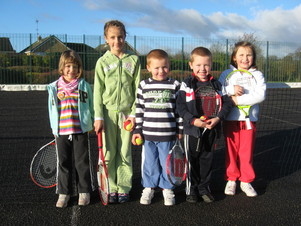 "We are delighted to launch our programme in the Spinney Park" said Head Tennis Coach, Steve Vincent. "Tennis is a twelve month of the year sport and we are pleased to able to offer both free and affordable sessions in the village throughout the year."
"We would like to thank Sports Development Services and Civic Pride & Open Spaces at St Helens Council for their support in helping us provide more opportunities for people from the local community and surrounding areas to take part in the sport of tennis."
You can find the Spinney Park on Scarisbrick Road, which is off Higher Lane, near Rainford High School. Sessions will take place every week and will only be cancelled in the event of extremely bad weather.