Club News
Green Army gain promotion again in Liverpool Tennis League
(August 10, 2011)
---
Rainford's Men's 1st Team have won promotion for the second successive season in the Liverpool Tennis League and will be competing at the highest level in the Club's history next season.
The 'Green Army' only lost one match all season in Section E and will be promoted for the 2012 season finishing in first place just above Maghull.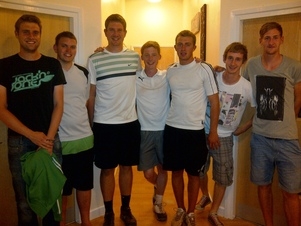 Promotion was sealed with one game remaining as Rainford beat Eccleston Park 4-2 at home before the team travelled to Waterloo on the final day of the season and won 5-1 to top the division.
"We are delighted to gain promotion again and achieve on-court success for the Club, which is growing every year" said Captain Dave Hillier.
"All the players have worked so hard this season and I would like to thank them all, especially our Head Coach, Samuel Jalloh who has not only won all his matches but inspired the team to achieve so much."
"We are looking forward to competing in Section D next year and will be looking for promotion again."
The full squad for the season was Samuel Jalloh, Conor Porteus, Andrew Corish, Rob Jones, Andy Gillespie, Keith O'Donnell, Simon Webster, John Machin, Joe Machin Sam Sheen and Dave Hillier.