Club News
Coaches complete Liverpool Half Marathon to support children in Africa
(March 18, 2012)
---
Rainford Tennis coaches, Samuel Jalloh and Steve Vincent, completed the Liverpool Half Marathon today, to raise funds for the Sam Jalloh Sports Foundation, who run and support sports programmes for underprivileged children in Africa.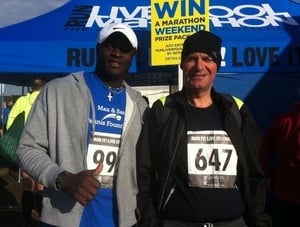 The Foundation run coaching and competitions, provide clothing and equipment, improve facilities, support educational opportunities and support talented players.

Sam and Steve completed the 13 mile race around the city of Liverpool to raise funds to help support the Foundation's programmes, in countries such as Sierra Leone, Gambia and Ghana.
"We both really enjoyed the race and would like to thank everyone who has supported us and the Sam Jalloh Sports Foundation" said Steve. "It is still not too late to sponsor us and you can still help make a difference to the lives of children in Africa."