Club News
Rainford Tennis Club awarded £50,000 grant from Sport England
(March 20, 2012)
---
Rainford Tennis Club has secured £50,000 of Olympic legacy funding from Sport England's Inspired Facilities Fund.


The Inspired Facilities fund is part of the £135 million Places People Play legacy programme that is bringing the magic of a home Olympic and Paralympic Games into communities across the country.
The funding will enable Rainford Tennis Club to install three additional porous macadam tennis courts. This will allow tennis to be played all year round whilst also enhancing the participation experience of current players and encouraging more individuals to partake in tennis.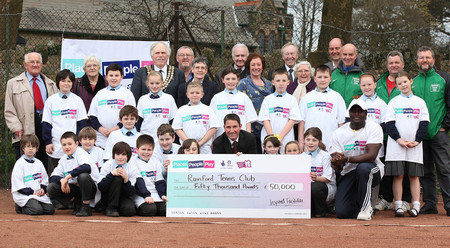 Sport England's Chair, Richard Lewis, said: "This investment will create will be a fantastic sporting legacy for St Helens."
"This fund has really hit the mark with sports clubs in the region. It shows we're offering the legacy that people want for their local community. For hundreds of clubs and tens of thousands of people, 2012 will be the year their local sports facilities got better."

Club Secretary, John Case: "We would like to thank Sport England, St Helens Council, Rainford Parish Council and all our other supporters for helping us to gain this award. This will enable Rainford Tennis Club to continue its exciting developments and investments for the future, by delivering excellent new tennis facilities for Rainford, St Helens and the surrounding areas.

The project is one of 350 local community sports groups who have been offered a total of £17.4 million in Olympic legacy funding through the Inspired Facilities Fund.

The investments announced today will breathe new life into tired facilities that can be unattractive to sports participants, difficult to maintain and run. Grants have also been offered to convert existing buildings into venues that are suitable for grassroots sport and to allow local clubs to buy the facilities they use.

Minister for Sport and the Olympics, Hugh Robertson MP, said: "We want to use the Olympic and Paralympics next summer to inspire a generation to get involved in sport across the country. This is why as part of the £135 million Places People Play legacy programme we invited community sports clubs to apply for funding to upgrade their facilities."

Places People Play is being delivered by Sport England. We are working in partnership with the British Olympic Association (BOA) and the British Paralympic Association (BPA) with the backing of The London Organising Committee of the Olympic Games and Paralympic Games (LOCOG) and the London 2012 Inspire mark.
LOCOG Chair, Seb Coe, said: "This is a fantastic funding project that will deliver a real legacy from the London 2012 Games. It will provide a whole range of sporting opportunities for young people through improved facilities and will I hope inspire them to take up sport."
Representatives from Rainford Tennis Club, along with children from Rainford Brook Lodge Primary School, are pictured receiving the cheque from Sport England.