Club News
Green Army march on to another promotion
(August 02, 2012)
---
Rainford Tennis Club's Men's 1st Team have won their third successive promotion in the Liverpool Tennis League after going unbeaten all season.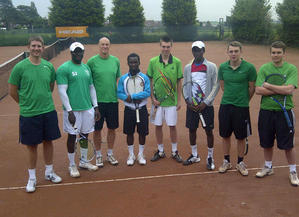 The 'Green Army', who are captained by Dave Hillier, didn't lose one match on their way to promotion and will compete in Division C next season in the most competitive league in the region.

"All the players have worked so hard this season and I am delighted they will be celebrating with more silverware" said Dave.

"Our Club is getting stronger all the time and, especially with our three new courts that we will have by the end of the year, the future looks bright for tennis in Rainford."
The full squad for the 2012 season was Samuel Jalloh, Conor Porteus, Jeff Bagerbaseh, Albert Arthur, Andrew Corish, John Allerston, John Machin, Andrew Gillespie, Alex Gillespie, Simon Webster and Dave Hillier.