Club News
Clean sweep for Sam Sheen in the 2012 Club Tournament
(September 15, 2012)
---
Sam Sheen is our new Men's Singles, Boy's Singles and Boy's Doubles Champion following an exciting day of tennis at the 2012 Club Tournament Finals.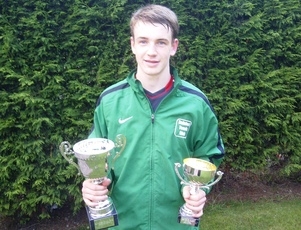 Sam started the day with a three set victory over John Allerston at the Jubilee Recreation Ground. The 17 year old won his first singles title with a 6-3, 6-7, 10-7 win in front of a packed crowd.

John Allerston made up for his disappointment by teaming with Andy Gillespie to lift Men's Doubles trophy following a 6-3, 6-3 win over defending champions, Dave Hillier and Conor Porteus.
Sam Sheen then made it two titles for the day with another three set victory this time in the Boy's Singles Final against Conor Porteus. Sheen saved a match point before closing out a 6-0, 4-6, 11-9 win to lift the Pete Collins Trophy. He then teamed with Conor Porteus to beat Alex Gillespie and Adam Ashton to win the Boy's Doubles.
In the other matches on Finals Day, Maisie Lavelle retained the John Case Mini Tennis Trophy with a straight sets win over Alex Fagan whilst Tracey Ashley-Jones and Vicky Cawley won the Women's Doubles over Anne Moyers and Browyn Fitzpatrick. Rebecca Duffy is also the new Girl's Singles Champion after winning the Rod Lea Trophy.

Final scores and draws