Club News
Sam Jalloh helping children through sport in Ghana
(January 17, 2013)
---
Rainford Tennis Club's Head Coach, Samuel Jalloh is travelling to Ghana this week to deliver sports programmes to underprivileged children.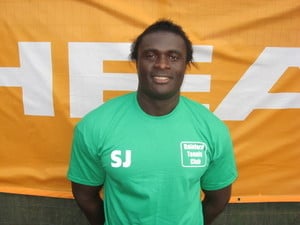 Samuel Jalloh (pictured) is the founder of the Sam Jalloh Sports Foundation and travels back to Africa each year running voluntary sports coaching, competitions, camps and coach education. Over the past five years, the Foundation have visited Sierra Leone, Gambia, South Sudan and Ghana.

With equipment kindly donated by organisations and individuals in the UK, Sam will be delivering tennis and martial arts this year in the town of Winneba, in partnership with the Ghana National Sports College.
"I am really looking forward to going to Ghana and helping the children over there through sport" said Samuel, who is funding his trip through his own money. "I would like to thank everyone who has supported our Foundation and also thank the other volunteers who will be joining me in Ghana next month."

"We would like to wish Sam every success with his trip to Ghana" said Club Secretary, John Case. "We are very proud to have Sam as our Head Coach and for all the great work he does helping children in Africa."