Club News
2013 St Helens Tennis Tournament comes to a close
(August 17, 2013)
---
The 2013 St Helens Tennis Tournament sponsored by North-West Waste Consultants took place this past week with a record entry from players from across the North of England.

The third annual event took place on the new courts at Rainford Tennis Club with 75 players in action in events from 8 & Under up to 18 & Under.

There was success for Rainford players with Cameron Ashley-Jones (pictured) finishing in second place in the 12 & Under Boys Singles. The twelve year old played very well in the final and was unlucky to lose 3-6, 7-6, 10-8 against Harrison Savage from Cumbria.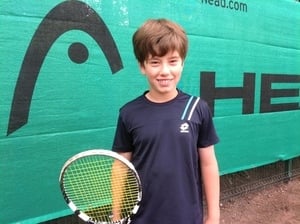 Phoebe Mitchell from Rainford finished third in the 9 & Under Singles whilst Rebecca Duffy won the consolation draw in the 12 & Unders.

Jordan Hall from Oldham dominated the older events with victories in both the 16 and 18 & Under events. There was Southport success in the girl's events with Molly O'Donughue winning the 12 & Under and Elise Bond winning the 14 & Unders. In the 10 & Unders, Shami Tekeste from Manchester won the girl's competition whilst Jake Bradshaw from Widnes won the boys.

"We would like to thank all the players who supported the competition" said Warren Aspinall from sponsors North-West Waste Consultants, who presented all the trophies. "There has been some fantastic tennis this week and we are already looking forward to next year's competition."