Club News
Triple promotion for Green Army teams
(August 01, 2014)
---
Rainford Tennis Club are celebrating after three of their teams gained promotion in this season's Liverpool Tennis League. The Club's Women's 2nd Team and Men's 2nd Team finished top of their divisions, whilst the Women's 1st Team finished in second place.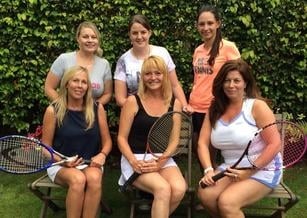 The Women's 2nd Team, captained by Helen Bligh, won an unprecedented 13 out of 14 matches to finish top of Division E. The team consisted of Bronwyn Fitzpatrick, Carol Roberts, Debbie Ryall, Diane Martindale, Joan Cook, Joanne Mercer Katie Green and Linda Ord.
The Men's 2nd Team also lifted silverware after winning Division G thanks to the efforts of captain Simon Webster, Cameron Ashley-Jones, Mal Thomas, Paul Porter, David Scott, John Machin, Chris Pye, Andy Davies and Ali Shimmin.
Not to be outdone, the Women's 1st Team also gained promotion with a strong finish to the season to clinch second place in Division D. The team included captain Anne Moyers alongside Lauren Hill, Laura Hart, Vicky Cawley, Linda Collins, Helen Killilea, Tracey Ashley-Jones, Sarah Stephenson and Rebecca Duffy.
This is a fantastic end to a successful league season for all teams at Rainford Tennis Club. Both the 8 & Under and 9 & Under teams won their divisions earlier in the season, whilst the Men's 1st and 3rd Teams finished fourth in their divisions.