Club News
Eve Twist wins Lancashire Tennis Championships
(August 30, 2014)
---
Rainford Tennis Club member Eve Twist is Lancashire County Champion after winning the 8 & Under Girls Singles this weekend at Bolton Arena.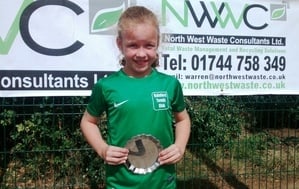 In her first ever appearance at the Lancashire Tennis Championships, the seven year old won all four of her matches in the qualifying draw, which took place on Thursday, to earn her place in Saturday's main draw alongside some of the best players in the region.
Eve's winning run didn't stop there as she won all six of her main draw matches and ended the day lifting the trophy and becoming a County Champion for the first time.
"We are delighted for Eve to finish a successful summer by winning the Lancashire Tennis Championships" said Rainford coach, Steve Vincent. "Eve won the St Helens Tennis Tournament last month and has backed this up with her win in the County Championships and she should be very proud of her efforts."