Club News
Cameron and Maisie win at Liverpool Easter Tournament
(April 11, 2015)
---
Rainford Tennis Club players Cameron Ashley-Jones and Maisie Lavelle were both winners at this week's 2015 Liverpool Tennis Easter Tournament.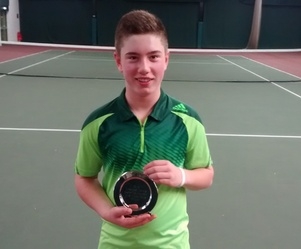 The competition, which took place on the indoor courts at Liverpool Tennis Centre, saw players from across the North of England in action and both Cameron and Maisie fought off the competition to win their respective events.

In the 14 & Under Boys Singles, Cameron Ashley-Jones won all of his matches without dropping a set, including a 6-1, 6-1 victory over top seed Robin Bloomer from Crewe in the final. It was a double celebration for the 14 year old from Eccleston, who has been selected to represent Lancashire 14 & Under Boys in this summer's LTA County Cup.

Maisie Lavelle was victorious in the 12 & Under Girls Singles. The 11 year old, fought through some close matches on her way to the final where she overcame Charlotte Margetson from Huddersfield in three sets.